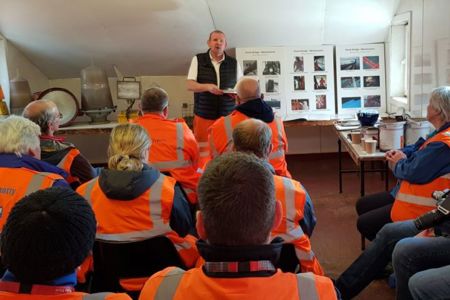 ---
YOUR VIEW AT THE FORTH BRIDGE
Barnardo's
---
Your View at the Forth Bridge is a unique fundraising event, held for a limited number of days annually since its pilot in 2017. In partnership with Network Rail, Balfour Beatty and The Briggers the event has given over 3,600 people the opportunity to access exclusive areas of the UNESCO World Heritage site, the Forth Bridge.
This new event has grown significantly since 2017 with the kind support of our corporate partners; raising just £20,500 in year one to £137,775 in year three.

Tickets for the event were limited and much sought after. The exclusive experience offers an interactive presentation from the expert Forth Bridge volunteer group 'The Briggers' before ascending to the top of the bridge to the viewing platform 361 feet up, guests experience amazing, uninterrupted views of the Edinburgh and Fife coastline.

Access to the world famous Forth Bridge is not open to the public, so this exclusive opportunity is a 'dream come true' for many bridge enthusiasts and local residents alike. The event was very special for many with three proposals of marriage, whilst on the top platform, and a number of special birthdays and anniversaries being celebrated.