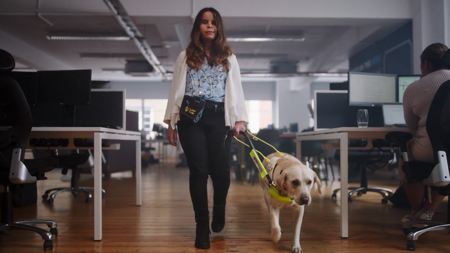 ---
Where Will Your Gift Lead?
Guide Dogs and Catsnake: The Story Agency
---
After a rebrand in 2020, Guide Dogs commissioned Catsnake to create an exciting new Legacy TV advert. Our creative, 'Where Will Your Gift Lead?' grew from Guide Dogs' inspiring commitment to provide individualised support for people with sight loss to live the life they choose. The core performance metric was requests for Guide Dogs' free Gifts in Wills Guide, however the film expands beyond this, encouraging viewers to become pledgers, and filling them with the confidence that a legacy gift to Guide Dogs will transform someone's life, and bring us closer to a world where people with sight loss are supported to live life to the full.
The film places the iconic guide dog at its centre, and spotlights real guide dog partnerships and other service users at work, play and home. It encourages viewers to consider the moments they may take for granted, and understand that for someone with sight loss, these everyday experiences might only be possible with a guide dog or other services from Guide Dogs. The use of real service users, as well as close collaboration and strong communication between Catsnake, Guide Dogs and individual participants, was integral to the power of the advert.