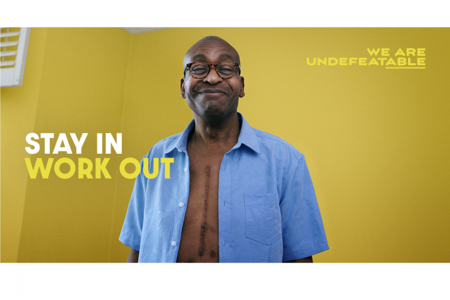 ---
WE ARE UNDEFEATABLE
We Are Undefeatable
---
We Are Undefeatable is a unique behaviour change campaign that aims to inspire and support people with long term health conditions (LTHC) to be active, delivered by a ground-breaking charity collaboration.
It's estimated that 43% of adults in England live with at least one LTHC. These numbers are rising, as are the numbers of people living with multiple conditions. People with LTHCs are twice as likely to do less than 30 minutes a week of physical activity than people without a health condition, this is despite that fact that physical activity can help manage a variety of conditions and symptoms as well as reduce the risk of many more.

Our charity partners looked to address this challenge working together with Sport England and creative agency FCB Inferno to develop audience insight and creative content to respond to our audience needs and barriers. We launched We Are Undefeatable in 2019 across multi-media and communications channels.

The campaign has achieved significant results already, gaining the attention of our target audience and encouraging small behaviour changes. It has had a positive impact on the charity partners behind the campaign and been promoted by over 700 external organisations from a wide range of sectors.