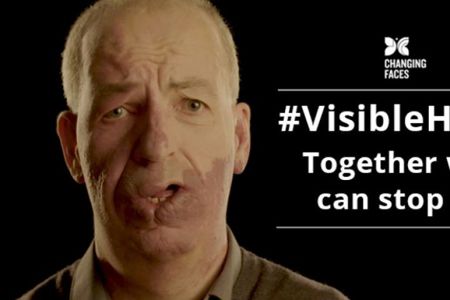 ---
#VISIBLEHATE
Changing Faces
---
Warning: contains offensive language that people with a visible difference face every day.
This notice accompanies an authentic, hard hitting film about appearance-related hate crime, launched for Changing Faces #VisibleHate campaign.
Noone should have to experience abuse and harassment because of how they look. Yet with their research showing a quarter of people with visible differences such as marks or scars have experienced a hate crime, charity Changing Faces knew they had to start an urgent national conversation on tackling such abuse.
Their ambassadors wrote and starred in this film, sharing their own experiences, inspiring Facebook and Twitter to donate advertising spend in support, and reaching 30 million people.
Actor and TV presenter Adam Pearson was one of six people starring in the film. He shared that whilst the abuse is tough to deal with, the video gave the opportunity to educate people:
I've been abused in the street but also get a lot of hate online. Some people say to me "well just quit social media" but that's not a solution.
This highlights the impact of hate crime and will cultivate a landscape where people like me can exist and engage without being attacked simply for how we look.