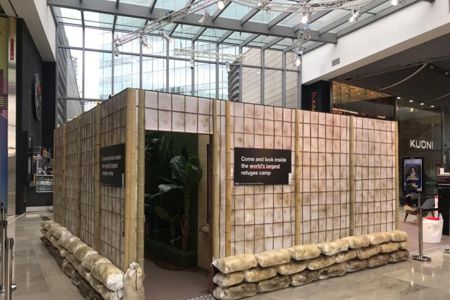 ---
THE WORLD'S LARGEST REFUGEE CAMP
British Red Cross
---
In August 2019, teams across British Red Cross came together to bring to life the plight of refugees living in the world's largest refugee camp as they faced a second monsoon season in one of the most disaster-prone places on Earth.
A free immersive exhibition brought Cox's Bazar in Bangladesh, to Westfield Stratford City for one week as we trialled a new type of face to face fundraising that raised more than three times what was projected for the organisation, proving this pilot activity works. Through the experience, members of the public learnt about the journeys made by thousands of refugees fleeing from Myanmar and were able to see, touch and hear elements of camp life and discover the real stories of their lives in Bangladesh.

This led to building a new supporter journey for those that signed up as regular donors with lower attrition rates than previously seen and a new pool of supporters who continue to be engaged in the topic in a unique way.