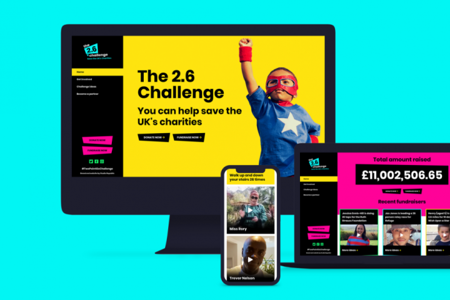 ---
THE 2.6 CHALLENGE: SAVING THE UK'S CHARITIES
Studio Republic
---
Following the cancellation of thousands of fundraising events, leaders from the country's biggest mass-participation sports events, and agencies Studio Republic and LiveWire Sport devised a pro bono campaign to raise urgent funding for as many UK charities as possible.
The 2.6 Challenge was created because it was a denomination of the marathon distance and the London Marathon date (April 26th) which the campaign would replace. The message was simple and inclusive, inviting home heroes of all ages and abilities to support their chosen charity with a 2.6-themed challenge. From there the campaign was fuelled by the imagination of the British public.
In 22 days the brand was created, a website built and charities and businesses equipped with a marketing toolkit to engage their fundraising communities. Celebrities took on a challenge including Gareth Bale, Kevin Pietersen and Dame Jessica Ennis-Hill and hundreds of national media outlets covered progress on campaign day including BBC, ITV and Sky News.
Empowering a network of more than 3,900 UK charities and their communities, The 2.6 Challenge campaign successfully raised over £11 million making it the biggest collective fundraising event in the UK and it is believed the world.