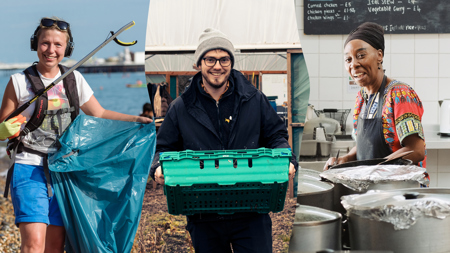 ---
Starbucks-Hubbub: Stronger, Greener Communities
Hubbub and Starbucks
---
Environmental charity Hubbub and Starbucks have partnered to build stronger, greener communities.

In the UK, Starbucks customers have two options to support environmental initiatives: they can reduce waste and save money via a 25p discount on reusable cups, or they can choose to donate via a 5p charge on non-reusable cups that goes toward funding community-led environmental projects.

Hubbub manages funds from the 5p cup charge, ensuring they go toward initiatives that are good for the planet and for communities. Funds from the 5p cup charge have been used to improve access and connection to nature, make the most of the food we have, and reduce the environmental impact of cups and litter on our communities. In the past year, 5p funds have enabled Hubbub to scale projects that are shown to work in new ways, like the Community Fridge Network, and have allowed Hubbub to test new ideas, like investing in community groups creating green spaces near hospitals and GP surgeries.

The partnership sets Starbucks apart from their competitors by highlighting their commitment to funding community-led environmental work, and it allows Hubbub to continue exploring bold, innovate ways to engage people on environmental issues.