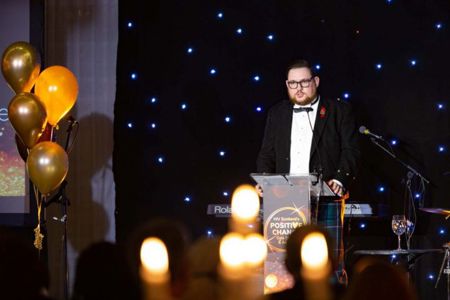 ---
NATHAN SPARLING
HIV Scotland
---
HIV Scotland was created in 1996 by people living with HIV (PLHIV), activists, and key human rights figures in response to the Scottish Office AIDS Task Force calling for improved provision and coordination of services. We are a highly motivated team of seven who advocate, campaign and promote the issues alongside PLHIV to government, business and the community to ensure that their needs are given proper recognition by decision-makers.
Because of funding cuts, in late 2018 HIV Scotland operated with a skeleton crew of two and had to quickly review its priorities if the organisation was to survive the year. Nathan Sparling became CEO at this critical time, and has since guided the organisation to tremendous success and out of crisis. Leading HIV Scotland under new branding, new core missions and an entirely new public-facing fundraising strategy, 18 months of rapid change have also been 18 months of unequivocal success thanks to Nathan's leadership and vision.

Evidenced by the organisation's successes under his guidance, Nathan possesses all the qualities of a rising Chief Executive.