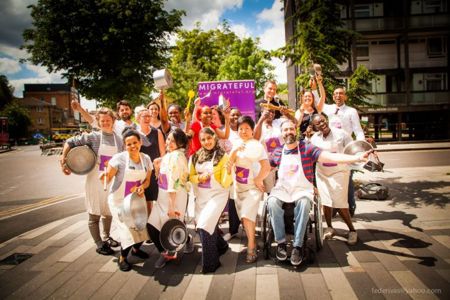 ---
MIGRATEFUL
Migrateful
---
Migrateful supports asylum seekers, refugees and vulnerable migrants on their journey to employment and independence, and promotes integration. We do this through offering cookery classes where migrant chefs share their native cuisine, culture and stories.
First, we train chefs in public speaking and how to organise and run a successful cookery class. This training helps build confidence, provides opportunities for English practice and reduces isolation. Chefs are then ready to run cookery classes for the public. These classes are very participatory and the intimacy of the setting allows for personal interactions between migrants and participants which helps build understanding and challenges preconceptions.

Each of our cookery classes lasts around three hours, with an average of ten paying participants per class. The classes have wide appeal, attracting those simply interested in food as well as those wishing to support refugees. As well as classes which anyone can buy a ticket for, Migrateful also offers private and corporate classes for groups of friends and family, or for companies.

During the pandemic we have transferred both our chef training and our cookery classes online. When social distancing measures are discontinued we plan to do a mixture of both online classes and in-person classes.