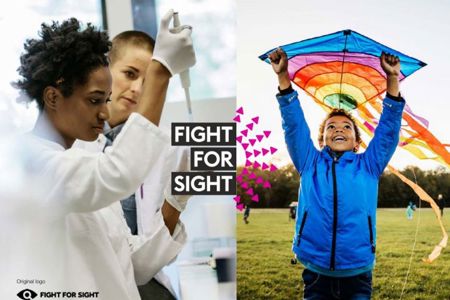 ---
FIGHT FOR SIGHT
Spencer du Bois
---
Right now there are over two million people across the UK facing sight-related challenges. A number that is set to double.
Yet, unlike other health sectors, research is barely visible and all but unfunded, accounting for less than 1% of public grant funding. Without a significant increase in research investment, we'll never see an end to sight loss.

To highlight the urgency and importance of sight loss research in the UK, Fight for Sight needed a brand capable of sparking revelation before igniting revolution.

The new brand breathes humanity into science by placing emotion, warmth and life-transforming impact at its heart. The new messages communicate the charity's transformational achievements to date. Challenging misperceptions and building credibility with a sceptical public.

The brand has had an immediate impact, energising staff with its urgency and dynamism, fantastic bold colours and ambitious language about science on the verge of breakthroughs. And despite Covid interruptions, prompted awareness amongst the charity's two key audiences (55 & 64 year olds and people with sight loss) are up and online donations have doubled.

It's a rebrand to bring together the charity's bright minds with more of the public's big hearts to win the fight for sight.