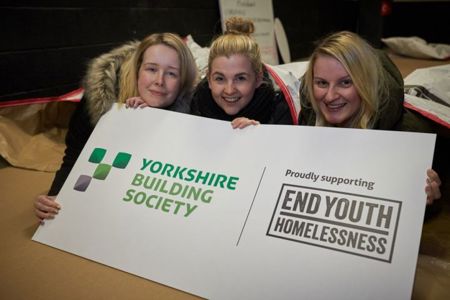 ---
END YOUTH HOMELESSNESS AND YORKSHIRE BUILDING SOCIETY RENT DEPOSIT SCHEME
End Youth Homelessness
---
110,000 young people asked local councils for help last year because they faced homelessness. End Youth Homelessness (EYH) is a national movement of local charities that have joined forces to solve the UK youth homelessness crisis. EYH teamed up with Yorkshire Building Society (YBS) to fulfill a shared priority to provide a solution to this problem and help vulnerable young people into a place to call home.
The partnership sought to raise £780,000 to help 700 homeless 16-25 year-olds in to their own homes. It created a national Rent Deposit Scheme, which provides rental deposit guarantees and home essential grants alongside dedicated support to help young people enter and sustain tenancies. To date, more than £1m has been raised and 440 young people have been housed along with 95 dependent children.

To fulfill shared priorities on financial literacy, YBS adapted its in-schools Money Minds programme for homeless young people. To challenge stigmas around homelessness, YBS ran external marketing campaigns and internal e-learning modules. To influence the sector, EYH and YBS worked together to change YBS buy-to-let mortgage terms to offer tenancies to renters on benefits and to create a Rental Affordability Index, comparing regional data on housing costs and wages.