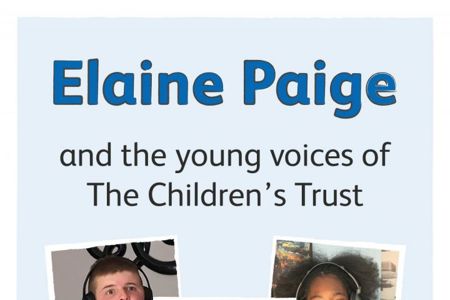 ---
ELAINE PAIGE OBE
The Children's Trust
---
Elaine Paige OBE was the first celebrity to engage in the work of The Children's Trust and has been an ambassador for almost 40 years
In the last 18 months, Elaine has donated a generous amount of her time to support The Children's Trust's music therapy work. Not only using her profile to increase awareness of the power of music, she has also made make public appearances and performed to help raise vital funds for music therapy which is all funded by donation.

During the Covid-19 pandemic, Elaine once again stepped up her support to help find ways to help entertain the children at the rehabilitation centre and help therapists to keep them focused on their therapy. In April 2020, Elaine invited the children to learn a song and later hosted a special Zoom singing session where they rehearsed and asked her lots of questions.

Elaine also organised for the recording to be released as an official single, which was an enormous boost for the children, many of whom have been shielding in their rooms for many months because of their complex health needs. Everyone at The Children's Trust is extremely grateful to Elaine for her time and positive energy.