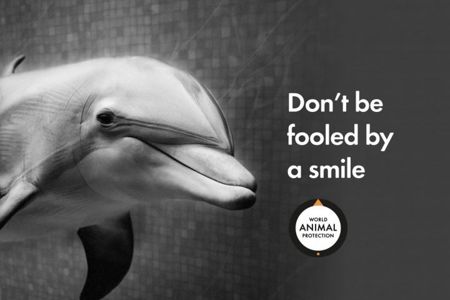 ---
DON'T BE FOOLED BY A SMILE
Different Kettle
---
Dolphins are amongst the most intelligent animals in the world. And yet thousands suffer at the hands of an entertainment industry profiting from their misery. World Animal Protection's campaign set out to end this suffering forever.
A global PR machine makes dolphin entertainment look like innocent fun. To make their job easier, dolphins even look like they're smiling. To end the cruelty, we had to expose the truth behind that smile. Our core creative idea, 'Don't be fooled by a smile', quickly and powerfully conveyed our message. We created a short film and began promoting it through a range of owned, earned and bought channels. Having built a global movement of 190,000 people we then launched the 'Cruelty Behind the Smile Awards' and called on our growing community to nominate Expedia as the worst offender . Our support increased to over 300,000 and Expedia's CEO was swamped with over 40,000 emails and Tweets.

In February Expedia agreed to reduce the number of venues they promote. With our end goal tantalisingly close, the campaign has now been held up by the coronavirus crisis. But we will finish the job. We are well on the way to ending this cruelty forever.