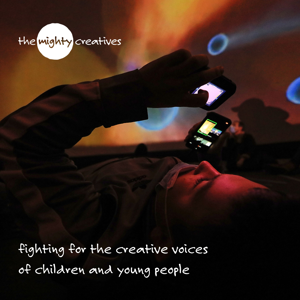 ---
Creative Mentoring
The Mighty Creatives
---
The Mighty Creatives exists to fight for the creative voices of children and young people in need – those who too often go unheard. We do this by providing one-to-one Creative Mentoring for children and young people (CYP) aged 5-25 who are in need, are care-experienced, or in vulnerable circumstances. Put simply, it's a tried-and-tested model of creative intervention based on a person-centred approach that places young people right at the heart.

Our trained mentors use their experience as creative practitioners and of youth work to empower mentees to discover their sense of self, purpose, belonging, and a world of possibilities – both now and in the future. By building trusted relationships through inspiring creative practice and activities, young people are supported in their personal, social, and emotional development, and education attainment, to transform their lives.

When the cost-of-living (COL) crisis erupted, the demand for our creative mentoring service rose dramatically by 700%. Spiralling costs have disrupted the social care system that young people rely on, while also impacting their wellbeing and preventing access to the opportunities they deserve to thrive.

We knew these young people needed us more than ever; we were listening, and we were ready to be mighty.