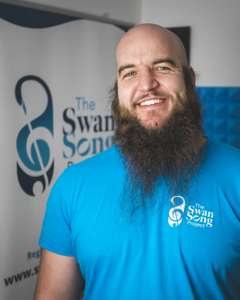 ---
Ben Buddy Slack
The Swan Song Project
---
Ben Buddy Slack is the founder of The Swan Song Project, a charity that helps people facing the end of their life of dealing with a bereavement to write and record an original song. The idea was inspired by the loss of Ben's Grandma and his regret at not writing a song with her before she died. As a songwriter himself he decided to see if others approaching the end of their life might like this opportunity.
The response was incredible with beautiful songs being written and participants saying how therapeutic they found it in a difficult time. Ben never thought he would start a charity but in order for Swan Song to reach more people it needed a legal structure and became a CIO in 2018.

Since then he has written songs with close to 100 people whilst growing the charity. The charity has brought in more income, expanded its partnerships, reach and services each year and is now expanding its songwriting team. Bens vision is for everyone to have the opportunity to write and record their Swan Song and is committed to growing the charity to offer this unique and special service to as many people as possible.